Marocco: individual and and escorted tours
Individual roundtrip or daytrip?
Morocco is fantastic country for a tour by motorhome. Fly to Malaga and within two hours you are already at the port to catch the ferry for the crossing in Tarifa or Alceciras which takes you across the Strait of Gibraltar in only 40 minutes. Morocco is a big country and you certainly need time to explore. We therefore  advise a minimum of 15 days for a tour seeing the highlights and to a good impression of this beautiful country.
If you do not have that time, it is still possible to get a glimp of this make a day trip from Tarifa to Tangier, one of the most well know cities of Northern Africa which an experience in itself. You leave the motorhome  in Tarifa at the campsite and take the ferry and on arrival you just walk into the atmospheric city. You can do this individually or you can join a group. For more information please contact us.
Roundtrips Morocco
Escorted tours to Morocco

It is now possible to join a group trip to Morocco. Usually the meeting point for the trips Tarifa or Motril and both places are less than 2 hours drive from the airport in Malaga.
No long journey with the camper from the Netherlands! So you can fly to Malaga in the morning and be at the meeting point a few hours later. Of course we make sure that you have all necessary travel documents for the camper and other necessities so that you are well prepared.
These trips can be done with travel operators like:
Expedition Far East – Specialist in adventure camper trips for people who would rather not participate in an organized group tour. Individual freedom and yet guided tours. A wonderful opportunity to get to know the versatile Morocco. Travel program:
22 days – ideal to get to know Morocco in a short time.
Next trip: 20 February to 13 March 2019
50 dagen – intensieve rondreis om nog beter het land ontdekken
Eerstvolgende reis: 21 oktober t/m 7 december 2019
Voor meer informatie neem contact op met onze partner of vraag ons om meer informatie!
The Camping and Caravanning Club

43 day Escorted Tour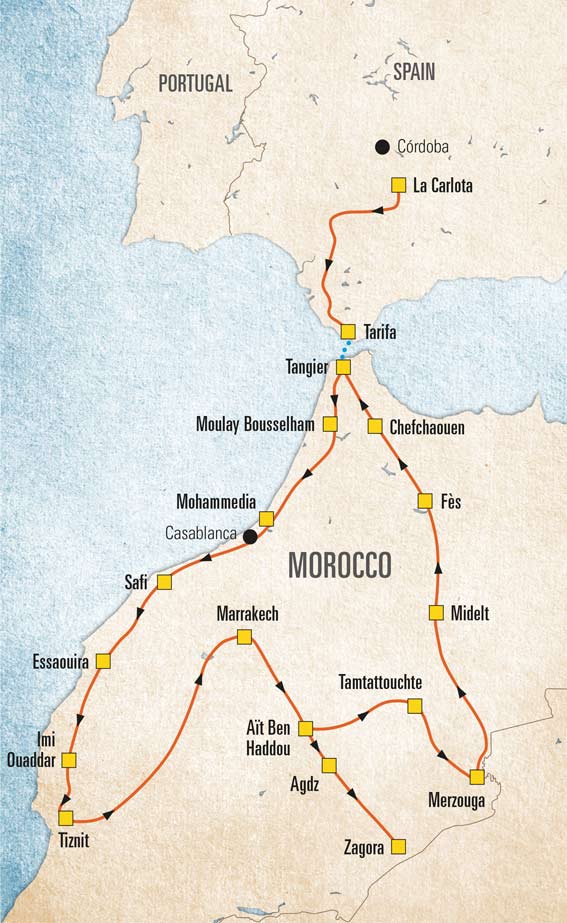 Next tour: 15 September – 27 October 2019
For more info and enquiries: INFO